TeamViewer 8 Beta now available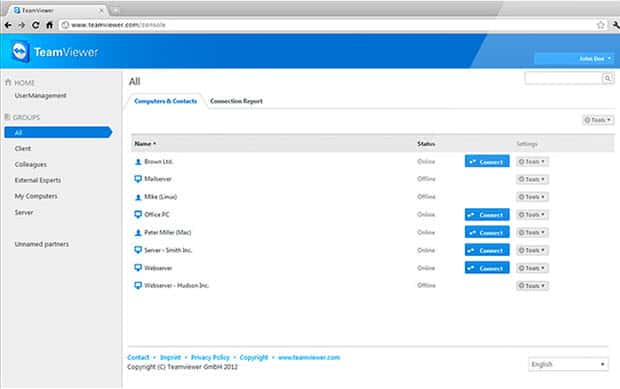 If you are working in support you have probably heard about TeamViewer or even used it in support sessions. TeamViewer has a strong business side, but can be as useful in a home environment. Say you are the go-to guy or gal when it comes to tech support in your family or among friends, then TeamViewer can be quite useful for support related tasks as well as it is free for personal use.
TeamViewer 8 has been released as a beta version for Windows, Mac and mobile devices (sorry no Linux yet). The new version of TeamViewer ships with a set of new features of which the majority may only be useful for business environments.
Session handover from one support expert to another to resolve support cases together
Option to add comments after remote control sessions for billing documentation. All information can be found in the TeamViewer Management Console.
Share groups with other TeamViewer accounts. another feature that is useful to provide TeamViewer colleagues with client information.
Remote printing support without having to transfer files. Great to access documents that are stored on another computer.
Schedule online meetings in Microsoft Outlook with the integrated TeamViewer button.
Record online meetings and remote control sessions including sound, voice over IP, and video. Ideal for training or documentation purposes (exclusive for licensed versions)
Remote sound and video to see what is happening on the computer (exclusive for licensed versions)
Remote account logout. View active logins to your TeamViewer account in the TeamViewer Management Console. Close them at any time, great if you have forgotten to log out.
Automatic log out after remote access.
TeamViewer Management Console, web-based administration of the support team.
The new TeamViewer 8 introduces several promising features of which the majority are most useful to support companies or departments.
TeamViewer in addition has recently has released TeamViewer Touch, a special version of TeamViewer for Microsoft Windows 8. The app can be downloaded directly from the operating system's store.
Have you had a chance to work with TeamViewer 8 yet? If so, what is your opinion of the new version and the features it introduces?
Advertisement