Firefox 57 release overview
Mozilla plans to release Firefox 57.0 to the stable channel on November 14, 2017. The new version of the web browser is a major release as it introduces big changes to the browser's performance, interface, and add-on compatibility.
In short: the new version of Firefox is a lot faster than previous versions, replaces the Australis interface introduced in Firefox 29 with the new Photon interface, and drops support for the legacy add-on system to focus on WebExtensions.
Executive Summary
Firefox 57.0 comes with a design refresh called Photon.
Legacy add-ons and themes are not compatible anymore.
Performance improvements thanks to Project Quantum.. Mozilla states that Firefox 57 is two times as fast as Firefox 52.0.
Firefox 57.0 download and update
Firefox 57.0 will be released on November 14, 2017 to the browser's stable channel. Existing Firefox users will have the browser updated automatically on the day, provided that automatic updates is enabled.
Firefox users can run manual checks for updates in the browser with a click on Menu > Help > About Firefox.
The release is already on Mozilla's FTP server, but it is best to wait for the public release announcement by Mozilla. Mozilla will update the download links as well on November 14.
Direct download links for Firefox installation files:
Firefox 57.0 Changes
Firefox 57 is probably the most important release for Mozilla in a long, long time. The organization removed the old add-ons system from Firefox, refreshed the interface, and integrated some parts of Project Quantum in the browser.
Photon design
Firefox 57.0 comes with a modified interface, the first major refresh of Firefox's design since the release of the controversial Australis interface in Firefox 29.0.
Photon is more than just an interface overhaul however as it is part of the Mozilla Quantum project. This means that Photon is not just a new paint for Firefox, but something deeper that took factors such as speed and responsiveness into account.
As far as the interface is concerned, Firefox 57.0 introduces changes to the New Tab page, the Firefox menu, themes, and customization options.
Firefox's theme has changed; if you used a previous version of the browser you will immediately notice the changes. Version 57.0 of the browser comes with a light and dark theme that you can switch between, and options to change the theme's density to touch or compact modes. Compact uses a little bit less of space, touch is optimized for devices with touch capabilities.
The Firefox menu is still at its default location, but it is not made up of icons anymore but of text links (with icons instead). The menu is fixed, meaning that you cannot add or remove items from it anymore.
Customize options are still provided though as you can see on the screenshots above. You can still drag and drop many interface elements around, or remove them entirely from the browser UI. New items can be placed on the main toolbar or a new ">>" menu designed for items that you don't want placed on the toolbar but in reach anyway.
When you navigate to a site you will notice the new "..." menu that is placed inside the address bar. This is the new Page Actions menu that lists options to interact with the page directly.
You find options to bookmark the page, or save it to pocket, and options to copy or email the link, send the tab to a connected device, or take a screenshot there.
Mozilla added dupes of the first two options inside the address bar as well. A right-click on the entry, e.g. "save page to Pocket" displays options to add or remove the icon from that spot.
The New Tab Page and Start Page of Firefox 57 is based on Activity Stream now. Activity Stream was launched as a Test Pilot experiment before Mozilla implemented the functionality in the browser.
The page features a search, top sites, highlights, Pocket recommendations (only select countries) and snippets that Mozilla displays. Firefox users can customize the New Tab page with a click on the cogwheel icon to display or hide any of the elements (removing all leaves a blank page).
Users who want more control can install the New Tab Override extension by Sören Hentzschel.
Photon is more than just the visuals that you see on the screenshots.Mozilla tweaked animations, icons and many other things to improve the responsiveness of the browser.
Quantum
The second big change in Firefox 57 is that parts of Firefox's new web engine Quantum are implemented in the browser. Mozilla stated earlier that Quantum made Firefox twice as fast for some operations when compared to the recent Firefox 52.0. That's an impressive gain.
Quantum makes use of technology that modern processors offer. It supports parallelism and other features, and uses these to make Firefox faster.
Quantum CSS, also known as Stylo, is the first major Quantum component that Mozilla integrated into Firefox.
Without going into too many details, Quantum CSS uses parallel computing and other improvements to make the handling of CSS in Firefox a lot faster.
Mozilla revealed in September that Firefox engineers removed a total of 468 issues related to speed, bottlenecks for instance, in the preceding months.
You can check out this overview on Mozilla Hacks for details on that, and this article on Quantum in general on the same site.
Quantum makes the browser more stable at the same time, as Quantum Compositor was moved to its own process thanks to the previous integration of Electrolysis (multi-process Firefox).
In short: Firefox feels a lot snappier and faster.
Changes to the Firefox add-on system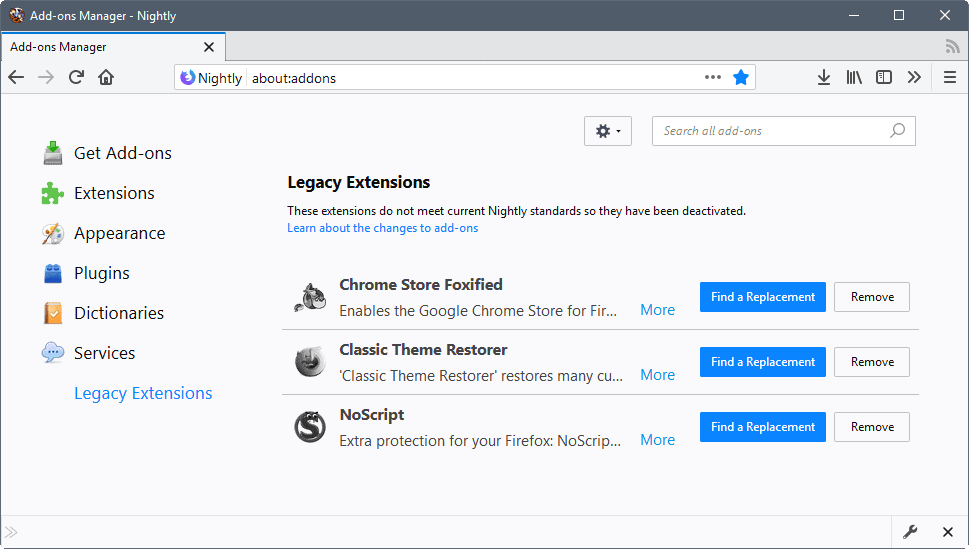 Firefox 57 does not support legacy add-ons or themes anymore. Firefox users who ran those in previous versions of the browser will notice that these have been disabled during the update to Firefox 57.
So, if you have updated to Firefox you may notice that some of your add-ons have been disabled, and that is the reason why.
Add-ons and themes that have been disabled are listed under legacy extensions on about:addons. Options to remove them and to use the new "find a replacement" feature are provided.
There is no guarantee that a replacement is available however. The Classic Theme Restorer extension for instance cannot have a replacement as WebExtensions cannot replicate its functionality.
In short: Firefox 57 supports only WebExtensions. Plenty of popular extensions have been ported, but there is an equally large number of popular extensions that have not yet. Some will never be ported for one reason or another (because of developer disinterest, a lack of APIs or because they are abandoned by their developer).
Mozilla plans to support legacy add-ons throughout the lifetime of Firefox ESR 52. The Firefox ESR 59 release won't support legacy add-ons anymore, and Mozilla noted already that there won't be a switch to enable legacy support again.
New Permissions in Preferences
You find (some) permission controls in the preference in Firefox 57. You can control location, camera, microphone and notifications directly there.
Load about:preferences#privacy and scroll down to the permissions section. A click on settings displays all sites that requested access to the linked feature, e.g. location. You can remove select websites or all websites from the listing at any time.
There is still some work to be done in this regard though, as controls lack options that Firefox's classic permissions system offered (removed by Mozilla).
Other Firefox 57.0 changes
The Share button has been removed in Firefox 57. You can install the Firefox add-on Share Backported to bring it back.
The autoscroll feature of Firefox uses asynchronous scrolling in Firefox 57. This should improve the smoothness of the scrolling of this mode.
The Linux security sandbox is set to a higher (more restrictive) level in Firefox 57.0. It blocks file system reads and writes on Linux systems. Firefox users on Linux who run into issues after the upgrade to the new version can modify the sandbox level accordingly (see known issues below for instructions).
Pressing the middle-mouse button in the content area on Unix systems does not navigate to URLs anymore by default.
Support for AMD VP9 hardware video decoder that improves video playback with lower power consumption.
Tracking Protection is now available as an option for all sites. It was previously only available for sites in private browsing mode.
Firefox 57 ships without visible search bar in the interface. You can enable it under about:preferences#search on new installations. Old installations should not be affected by this.
Firefox 57.0 Issues
Firefox 57.0 has three unresolved issues that may affect users of the browser:
Firefox users who operate screen readers are advised to use Firefox ESR until performance issues are resolved.
Firefox may crash on Windows and Linux systems with Intel Broadwell-U processors. Mozilla suggests that Windows users make sure the most recent updates are installed, and that Linux users should make sure the distribution package for Intel microcode is installed.
Firefox for Windows users who use the browser over Remote Desktop Connections (RDP) may have no audio as it may have been disabled due to security restrictions. Mozilla's support page suggests changing the level of the Firefox sandbox to 2.

Load about:config?filter=security.sandbox.content.level in the browser's address bar.
Double-click on the preference and set its value to 2.

Older versions of the Japanese Input Method Editor ATOK IME may cause crashes, and are disabled because of that on 64-bit versions of Firefox on Windows. Mozilla suggests to upgrade to a newer version or another IME.
Developer Changes
Visual refresh of DevTools themes.
New and re-designed Console panel (written in React and Reduct), allows  to inspect objects in context now.
The rel="preload" attribute has been disabled again.
New -screenshot flag for the headless mode of Firefox.
resource:// URIs don't leak information anymore.
Lots of Quantum CSS, WebExtensions changes. Consult the resource section below for links to the information.
Social API is completely removed.
Legacy add-ons maximum compatibility is set to 56.*. Developers cannot upload legacy add-ons with a higher maximum compatibility.
Firefox 57.0 for Android
Only supports WebExtensions. Legacy add-on support dropped.
Features performance improvements for faster page load times and better stability.
New Tab page updated.
Video decoding shuts down automatically when the playing tab is sent to the background. Will resume automatically when brought back to the foreground. Audio continues to play.
Tracking protection outside of private browsing supported.
Private mode automatically enabled on compatible keyboards when in private browsing mode.
Long URLs can be scrolled now in the address bar.
Added wo locale.
Security updates / fixes
Will be added once they are published. They are out.
CVE-2017-7793: Use-after-free with Fetch API
CVE-2017-7817: Firefox for Android address bar spoofing through fullscreen mode
CVE-2017-7818: Use-after-free during ARIA array manipulation
CVE-2017-7819: Use-after-free while resizing images in design mode
CVE-2017-7824: Buffer overflow when drawing and validating elements with ANGLE
CVE-2017-7805: Use-after-free in TLS 1.2 generating handshake hashes
CVE-2017-7812: Drag and drop of malicious page content to the tab bar can open locally stored files
CVE-2017-7814: Blob and data URLs bypass phishing and malware protection warnings
CVE-2017-7813: Integer truncation in the JavaScript parser
CVE-2017-7825: OS X fonts render some Tibetan and Arabic unicode characters as spaces
CVE-2017-7815: Spoofing attack with modal dialogs on non-e10s installations
CVE-2017-7816: WebExtensions can load about: URLs in extension UI
CVE-2017-7821: WebExtensions can download and open non-executable files without user interaction
CVE-2017-7823: CSP sandbox directive did not create a unique origin
CVE-2017-7822: WebCrypto allows AES-GCM with 0-length IV
CVE-2017-7820: Xray wrapper bypass with new tab and web console
CVE-2017-7811: Memory safety bugs fixed in Firefox 56
CVE-2017-7810: Memory safety bugs fixed in Firefox 56 and Firefox ESR 52.4
Firefox 57.0.1
Mozilla released Firefox 57.0.1 on November 29, 2017. It is a security and bug fix release that addresses the following issues:
Addressed an issue with pref.js profile paths having non-ascii characters.
Fixed a Google Maps crash on OS X devices with Intel HD Graphics 3000 video adapters.
Block RealPlayer Free client library injection as it was causing performance problems.
Addressed video color distortion issues on AMD devices on sites like YouTube and other video sites.
Security fixes.
Firefox 57.0.2
Firefox 57.0.2 was released on December 7, 2017 to the stable channel of the web browser. The release fixes two issues in the browser:
A crash issue on start that is caused by old versions of G Data Endpoint Security.
A WebGL and D3D9 in Windows.
Firefox 57.0.3
We covered the Firefox 57.0.3 release here.
Firefox 57.0.4
We covered the Firefox 57.0.4 release here.
Additional information / sources
Now Read: The state of Mozilla Firefox
Summary
Article Name
Firefox 57 release overview
Description
A detailed look at Firefox 57.0, a major new release of the web browser by Mozilla that drops legacy add-ons, introduces Quantum and Photon.
Author
Publisher
Logo

Advertisement