Here is the easiest way to get rid of Google's "Before you continue to YouTube" prompt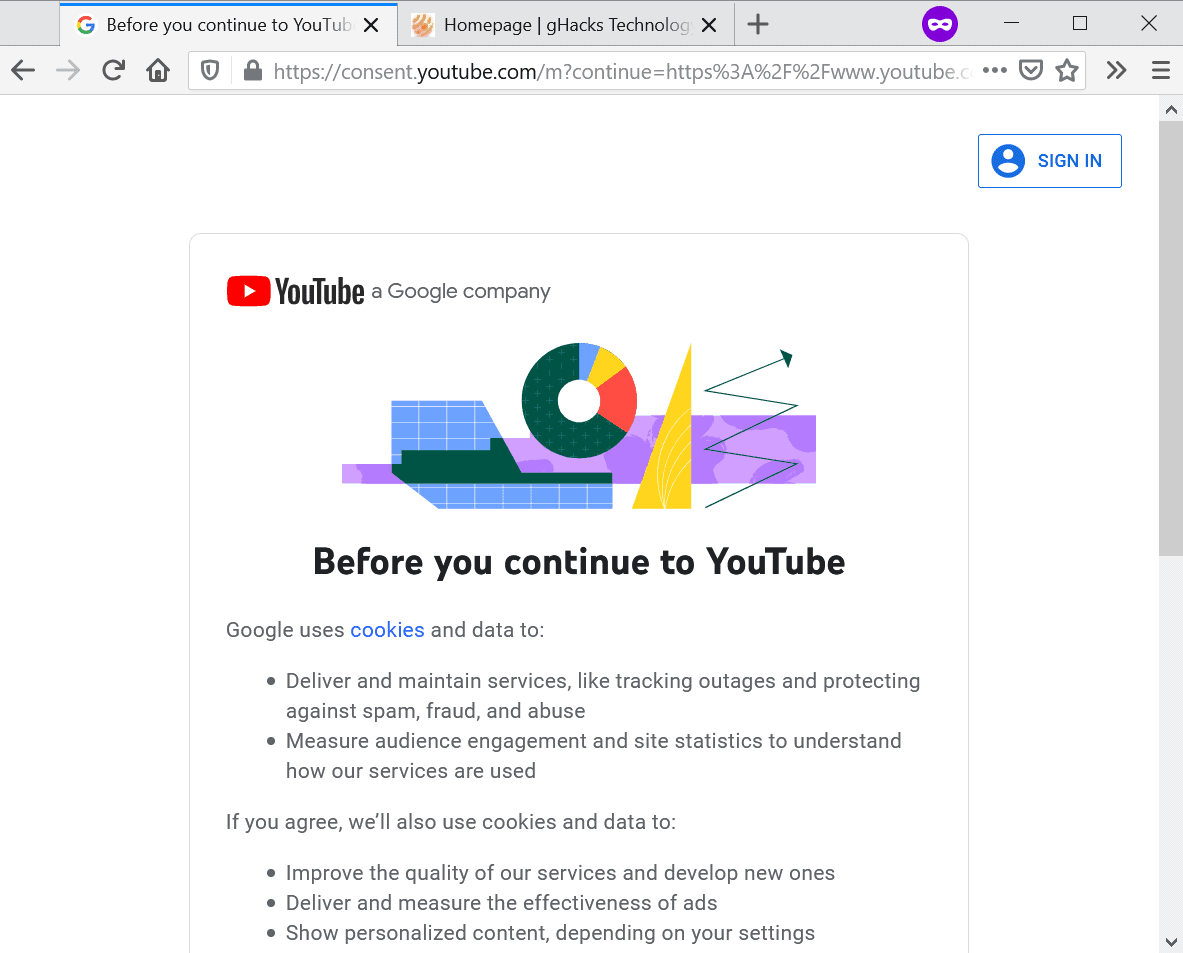 If you visit Google's YouTube website in private browsing / incognito mode, you will get the company's cookies and data prompt each time you do so. The reason for that is simple: since private browsing modes don't save cookies across sessions, YouTube cannot read cookies set previously and assumes that you have not given your agreement yet for cookie handling on the site.
The same happens to users who clear cookies regularly, either from within the browser or by using third-party tools. The "whole" cookie consent system on the Internet is broken, and part of that can be attributed to the number of prompts that users see when they visit sites on the Internet. A standardized feature that is implemented in the browser that informs sites automatically about the user's preferences would be a better solution.
For now, users face usability issues while browsing the Internet. We published a guide on dealing with aggressive Google and YouTube popups before, and while it works for most, it was not super easy to set up.
Today, we would like to provide you with a much simpler solution for YouTube. If you check the site in private browsing mode, you may notice that even though you are loading youtube.com in the browser, you are redirected to consent.youtube.com automatically.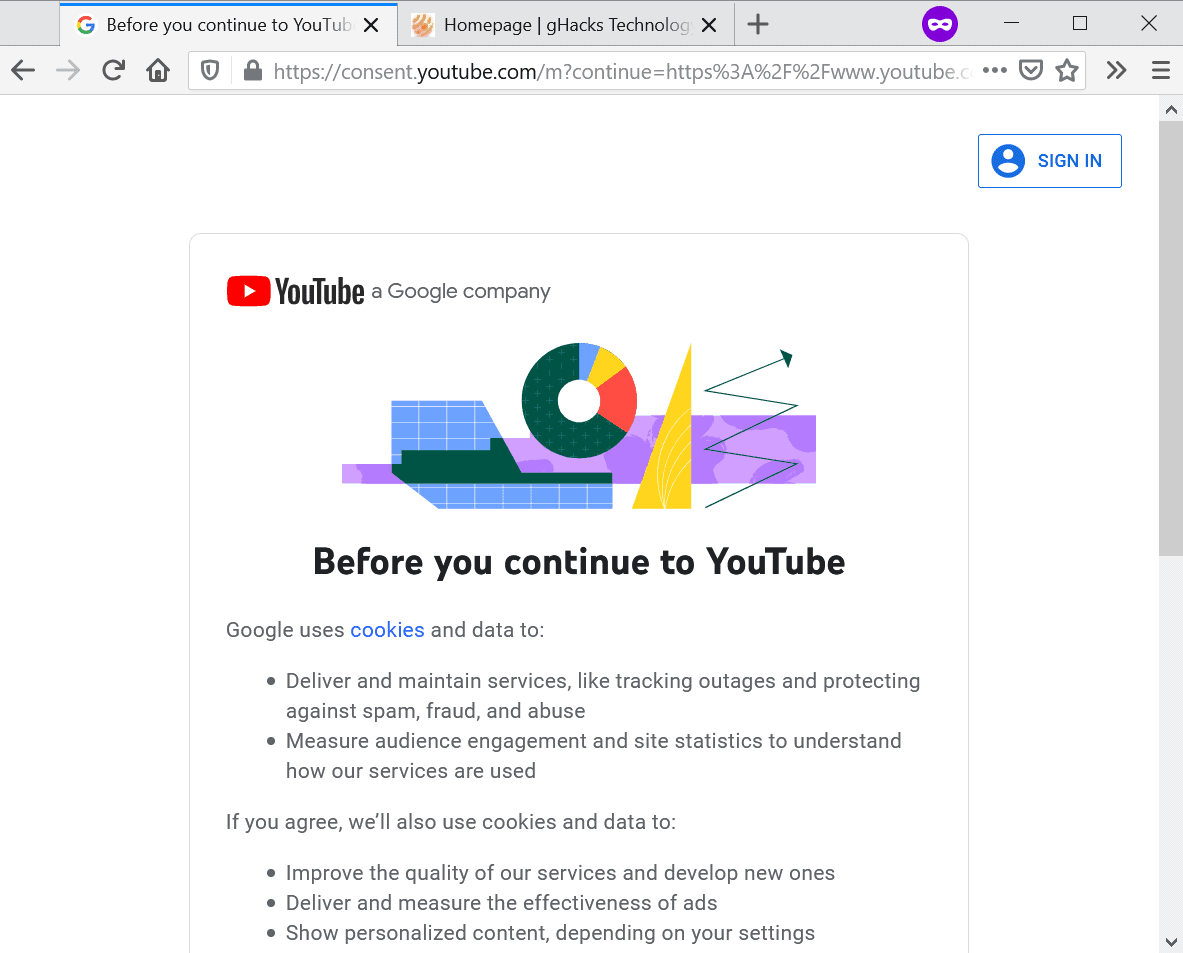 Once you accept the prompt and allow Google to use cookies and data on the site, you are redirected to the real YouTube site and can start using it.
What if, you'd block cookies on consent.youtube.com? Google cannot set cookies then because the browser denies it. A great thing happens when you do, as you are automatically redirected to the main YouTube site without ever seeing the consent prompt.
Note: that does not mean that you won't see other prompts, the "sign-in" prompt for instance that Google uses to link you to an account.
Here are the instructions on adding consent.youtube.com to the cookies blocklist of your browser. We did test this with several browsers, and the consent prompts were bypassed automatically in all tested browsers.
Chrome
Load chrome://settings/cookies in the web browser's address bar.
Scroll down to "sites that can never use cookies" and click on the add button next to it.
Type consent.youtube.com, check "including third-party cookies on this site" and select add.
Firefox
Load about:preferences#privacy in the browser's address bar.
Scroll down to Cookies and Site Data.
Select the Manage Exceptions button.
Type consent.youtube.com in "address of website" and select the "block" option.
Click on save changes.
Microsoft Edge
Load edge://settings/content/cookies in the browser's address bar.
Locate the block section on the page and click on the add button.
Type consent.youtube.com, check "include third-party cookies on this site" and click on add.
Other browsers
Most browsers are based on Chromium and support similar cookie blocking options. Generally speaking, all you have to do is block cookies and data on consent.youtube.com to get rid of the before you continue intermediary page on YouTube.
Closing Words
The method will work for as long as Google does not change its consent system on YouTube.
Now You: how do you deal with cookie consent prompts?
Summary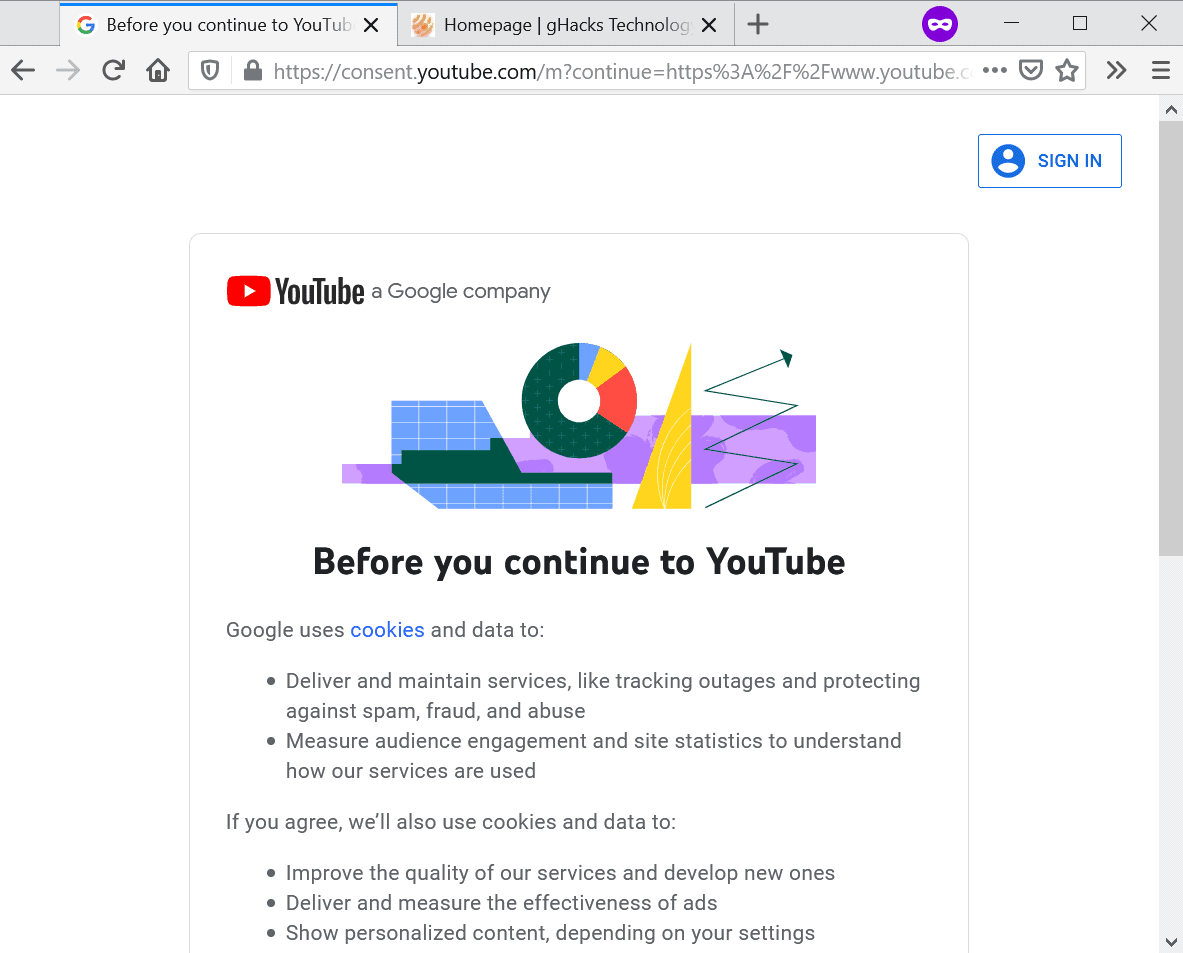 Article Name
Here is the easiest way to get rid of Google's "Before you continue to YouTube" prompt
Description
Find out how to configure your web browser to skip YouTube's "Before you continue to YouTube" cookie consent prompt automatically.
Author
Publisher
Logo

Advertisement