What's going to happen to Windows 7 and 8 when Windows 10 comes out?
Microsoft's newest version of Windows for desktop PCs and tablets is going to be released on July 29, 2015. The company is working on Windows 10 as we speak and has yet to pick a suitable RTM candidate so that the system can go in production and be made available to partners, hardware manufacturers and eventually end users.
It is clear that Microsoft is betting big on Windows 10, considering that it is offering free upgrades to Windows 7 and Windows 8 system owners, and also offering free licenses for Windows Insider users who stay on the beta channel after release.
If you check operating system usage share statistics currently, you will notice that Windows 7 is having a comfortable lead in all of them with a usage share between 50% and 60%. Windows 8 on the other hand has a usage share between 15% and 32%. (Steam Hardware Survey, Netmarketshare, w3Schools)
How is the release of Windows 10 going to affect the usage share of previous versions of Windows?
Microsoft attempts to get the bulk of users to upgrade to Windows 10 by offering the operating system as a free upgrade. While the offer is limited to the first year of release, it shows Microsoft's dedication to make Windows 10 work and make people forget about Windows 8.x.
Since upgrade offers are advertised to users who run Windows 7 and Windows 8, provided that they have automatic updates enabled, it seems likely that part of the user base will upgrade to the new version of Windows.
It is difficult to come up with figures as to how many will take the offer but it is likely that the offer will push the Windows 10 usage share significantly during the first days of release.
If you add hardware sales to it, it is likely that a sizable percentage of machines will run Windows 10 in the first year of release. Microsoft has released only one projection, to have 1 billion devices running Windows 10 after two or three years of release.
While it includes all devices, phones, tablets, game consoles and desktop computers, it is ambitious nevertheless.
But what does this mean for Windows 7 and Windows 8.1? Not much really apart from usage share going down as a consequence of the release.
Windows 7 is supported for another five years with security updates and Windows 8.1 for three extra years on top of that.
Even Windows Vista users, exempt from the free upgrade offer for reasons unknown, don't have to worry yet as their operating system is supported with security updates until 2017.
Since upgrades are free under certain conditions, it may make sense to upgrade as support for the operating system you have upgraded to is guaranteed for a longer period of time.
In addition, you get support for new features such as DirectX 12, an improved command prompt, Cortana, the new Microsoft Edge browser, Xbox app game recording, and new security features such as Device Guard and Windows Hello (may be restricted to certain versions).
As is the case with operating system upgrades, there is always new stuff to learn and things that are different when compared to previous versions of Windows.
Windows 8 users will find themselves right at home. The core difference that they will spot right away is the new start menu that replaced the start screen interface on the desktop by default. It is still possible to make it fullscreen if that is desired, but that's mostly it from an upgrade perspective.
Windows 7 users on the other hand will have a harder time adjusting to the new system. While not as hard as upgrading to Windows 8, there are still things that are done different.
The start menu for instance uses a different layout and some item placements seem kinda off. Store and applications can be ignored for the most part though if those are not required and since the Start Screen is gone, so is the switching between the two interfaces of Windows 8.
Unless you require some of the features that ship with Windows 10, there is little incentive to upgrade considering that it will take time and resources to get accustomed to the new operating system.
Closing Words
I have made up my mind some time ago, as I will keep on using Windows 7 on the PC it is installed on, and upgrade Windows 8.1 on another PC to Windows 10.
Windows 10 feels like an improvement over Windows 8.1, that's why it makes sense to upgrade Windows 8.x machines to it.
Now You: What do you think will happen to Windows 7 and 8 usage share after the release of Windows 10? And will you upgrade to Windows 10?
Summary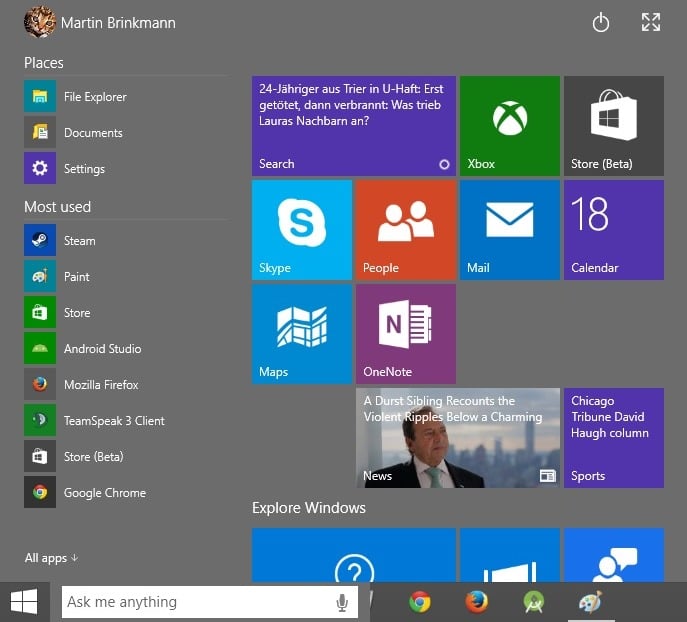 Article Name
What's going to happen to Windows 7 and 8 when Windows 10 comes out?
Description
Find out what the release of Windows 10 means for users of Microsoft's previous operating systems Windows 7 and Windows 8.
Author
Publisher
Logo

Advertisement