Computerbase: you have 30 days to downgrade Windows 10
Windows 7 and Windows 8.1 users who upgrade their machines to Microsoft's upcoming operating system Windows 10 have 30 days to downgrade to the old system again according to German computer magazine Computerbase.
What happens when you upgrade your PC running an earlier version of Windows 10 and you don't like it or did so in error? That's one of several questions that Computerbase answers in a new post on its website.
According to information posted on its website, users will be able to do so for 30 days. The license of the old operating system is transferred to the new which means that it will become invalid but is transferred back in the 30-day grace period when a user decides to downgrade to the previous version of Windows.
Microsoft distinguishes between two types of upgrades. First PCs running OEM versions of Windows 7 or 8.1, which are linked to the hardware of the system, and then full versions that are not linked to specific devices.
Microsoft wants to make the upgrade process as painless as possible for users who want to upgrade to Windows 10. Users who run into license issues during or after the upgrade can activate the operating system online or via phone.
Full version owners of Windows who upgrade retain all the rights that come with their version. While it is mandatory to upgrade to Windows 10 to transfer the license, it is afterwards possible to install Windows 10 directly on the same or other machines using ISO images that Microsoft will make available.
The magazine revealed the retail price of full versions of Windows 10 in Germany on top of that.
Windows 10 Home - 119 Euro (about 132 US Dollar)
Windows 10 Pro - 279 Euro (about 309 US Dollar)
Windows 10 Home upgrade to Pro - 159 Euro (about 176 Dollar)
The price of Home, Pro and upgrade versions has not changed in comparison to Windonws 8.1.
Microsoft revealed this year's timeline for Windows 10 on top of that:
July 29, 2015 - Windows 10 is available as a free upgrade.
August - Retail copies of Windows 10 become available, first PCs with Windows 10 are available.
September - New hardware is showcased on IFA. Important feature: Biometrie / Windows Hello.
Autumn -Â  Upgrades for Windows Phone and Xbox One become available
The company confirmed furthermore that the free upgrade won't have any hidden costs or time limits.
Summary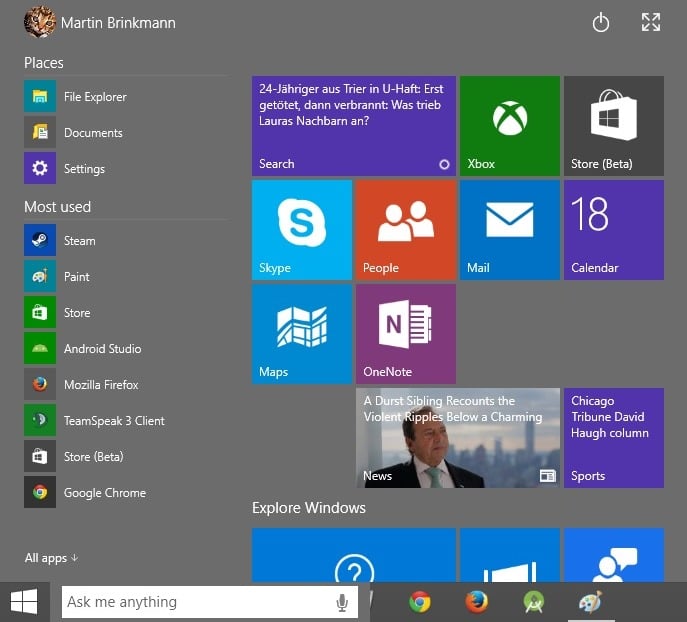 Article Name
Computerbase: you have 30 days to downgrade Windows 10
Description
German computer magazine Computerbase reports that Windows 10 can be downgraded for the first 30 days after the free upgrade.
Author
Publisher
Logo

Advertisement