Microsoft reveals what Edge won't support: ActiveX, VBScript, more
We all know by now that Windows 10 will ship with a new default browser that Microsoft calls Edge.
While it won't be the only browser that ships with the system, as Internet Explorer is still available for legacy applications, it will be at the center stage of Windows 10.
If you compare what Microsoft Edge delivers right now to Internet Explorer, you will notice that Edge is as bare bones as it gets in many regards.
For instance, the settings that ship with the browser list only a handful of options and while it is too early to tell if that is how it is going to be or if new settings are added before Windows 10 ships, it is clear that Edge will break with the past big time.
Microsoft revealed today what Edge won't support and it reads like the who is who of technologies that made Internet Explorer.
ActiveX
Browser Helper Objects (BHO)
Document modes
Vector Markup Language (VML)
VBScript
attachEvent/removeEvent
currentStyle
conditional comments
IE8 layout quirks
DirectX Filters and transitions
The same blog post highlights why features were introduced and why they are not needed anymore.
For instance, Microsoft mentions that HMTL5 have reduced the need for ActiveX controls in the browser and that Edge will support both Flash and a native PDF reader out of the box.
Several of the technologies were used by attackers in the past to attack the browser and underlying system and their removal should improve the situation significantly.
Microsoft notes that there are other features that Edge won't support. A replacement in form of a unified extensibility model will be added for those so that they can be replaced.
Included in the list are custom download managers, MIME filters, Explorer Bars, Accelerators, Webslices or custom print and preview handlers.
It is not clear if Microsoft refers to the extension engine that it is creating for Microsoft Edge or something else.
The company notes that "hundreds of other non-interoperable APIs have been removed as well from Edge. This includes a move from Microsoft prefixed versions of APIs to webkit prefixed APIs. Not all vendor specific prefixes are removed from Microsoft Edge though as some are in use on today's web and need to remain supported for interoperability purposes.
The removal of classic Internet Explorer features and replacement of these features with modern technologies used by all browsers should improve the security and compatibility of Microsoft's Edge browser considerably.
This means on the other hand that compatibility with websites that use these techniques is reduced or even non-existent anymore which is why Microsoft ships IE11 with Windows 10 as well.
Now You: Have you tried Microsoft Edge yet? What's your take so far?
Summary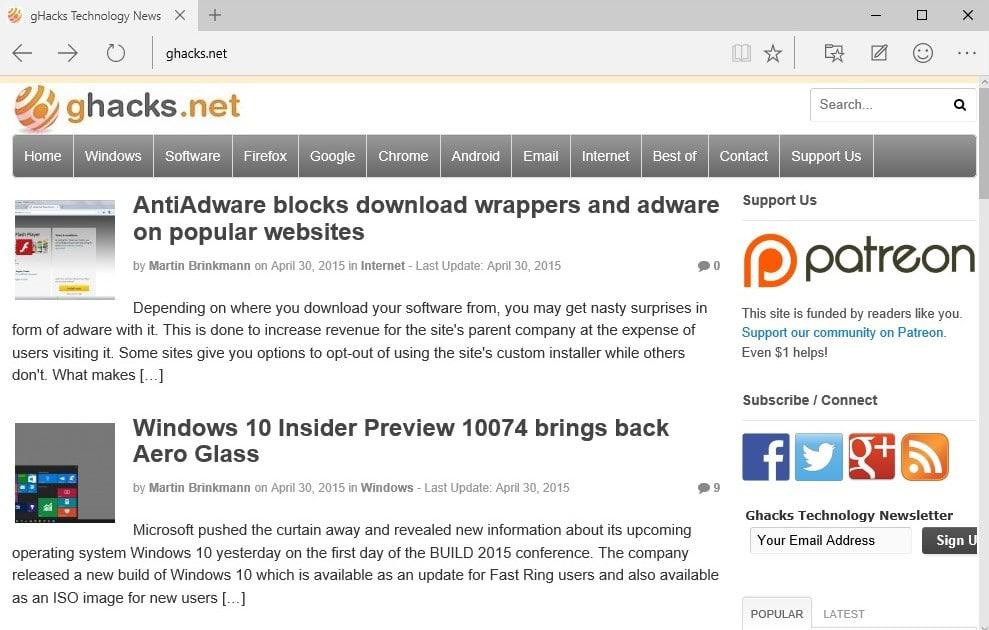 Article Name
Microsoft reveals what Edge won't support: ActiveX, VBScript, more
Description
Microsoft published a list of technologies and features that its new Edge browser won't support and revealed how it plans to replace those.
Author
Publisher
Logo

Advertisement