Lenovo shipping Windows 8 PCs with Pokki's software suite: good or bad idea?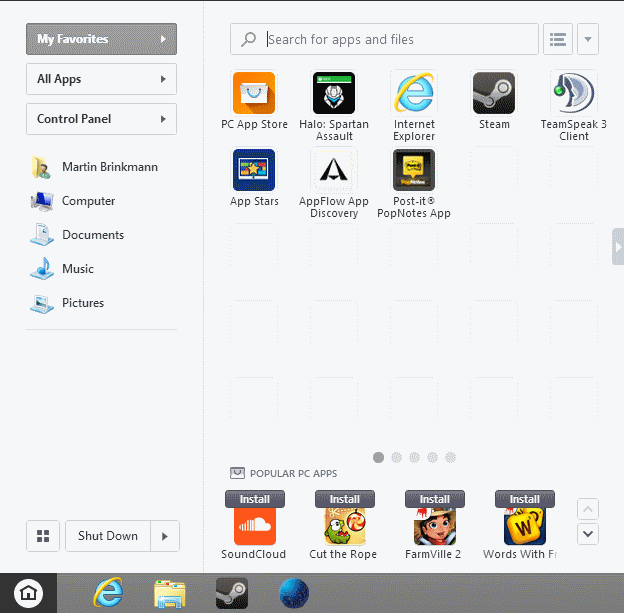 Windows 8 is probably not the "big hit" that Microsoft hoped the operating system would be. There is no single factor why that is the case: a declining PC market, the strong and popular Windows 7 operating system, and interface modifications all seem to play a part in this regard.
It is also not really clear how many potential customers decide to buy a system that is not running Windows 8, or downgrade if they cannot get their hands on an alternative, based on the start screen interface and missing start menu.
While the percentage may be quite high in tech-savvy circles, it is unlikely that it is playing a big role in the mass market.
Users who get a PC with Windows 8 can install third party software to modify the operating system so that it resembles Windows 7 more than it resembles Windows 8, at least visually. Programs like Start8, Classic Shell or Pokki are highly popular and have been download millionfold ever since Windows 8 got released to the public.
That's apparently not enough for Lenovo, who just announced a cooperation with Pokki to bring Pokki's software suite to new Lenovo Windows 8 devices. What this means is that customers get the Pokki start menu and all other features that it makes available by default.
The feature that may appeal to most customers is the full blown start menu that is added to the desktop of the operating system by default. It does not resemble the Windows 7 start menu at all, but offers several advanced features to customize the selection to the user's liking.
It is for instance possible to add favorite icons of programs or apps to the start menu for fast start, access all control panel applets from there, or other high priority destinations like the Documents folder.
The deal includes Pokki's Game arcade and support for native Windows Store apps as well as Pokki apps that can be downloaded from the store.
Customers who purchase new Lenovo IdeaPad or ThinkPad laptops or IdeaCentre desktop systems will find Pokki pre-installed on them.
The installation may have consquences. It is not clear right now if Pokki is configured to load the desktop on start, or if the start screen will be displayed. A bypass could have severe consequences as users would not have that many options to get to know the start screen interface. Some may never get there.
The integration of Pokki's PC App Store may confuse users further, as it may be confused with the native Windows Store.
Ideally, it is installed in a way that does not modify the default way Windows 8 works. PCs boot into the start screen area but users get a familiar looking start menu when they switch to the desktop.
The question is this: are Lenovo PCs more attractive than others because they ship with a pre-installed start menu now? Experienced users may find the deal not that attractive, as it is still possible to install the very same Pokki software on Windows 8 systems manually. And users who do not want Pokki on their Lenovo PC, can uninstall it just like any other software if they prefer it that way.
I see this more as a wake up call for Microsoft, as it highlights clearly that - at least some - OEMs are not satisfied with Windows 8 in its current implementation.
What is your take on the news?
Summary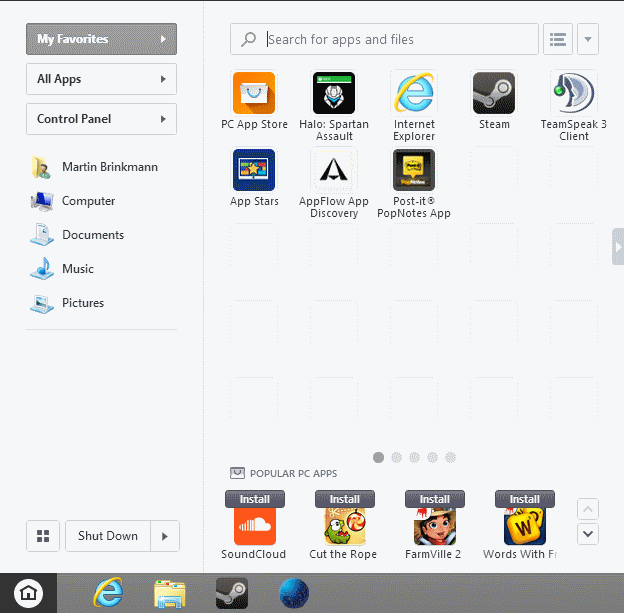 Article Name
Lenovo shipping Windows 8 PCs with Pokki's software suite: good or bad idea?
Description
Lenovo announced a cooperation with Pokk in 2013i to bring Pokki's software suite to new Lenovo Windows 8 devices.
Author
Publisher
Logo

Advertisement