Make any Search Engine the default on Windows 10
The following guide describes how you can make any search engine the default when you are running searches on Microsoft's Windows 10 operating system.
If you have used Windows 10 before you know that search is powered by Cortana in the operating system, and that Microsoft has added web search to desktop search which returns web results or suggestions depending on the query.
A search for Yahoo for instance may return various Yahoo web results -- Yahoo Mail, Finance or News -- which, when selected, open a search results page in the default web browser (which by default is Microsoft Edge with Bing as the search engine).
If you use another browser, say Firefox or Chrome on Windows 10, then results are opened in that browser instead.
Update: Microsoft just announced that it decided to limit search on Windows 10 to Bing and Microsoft Edge. This means that the following instructions no longer work.
Make any Search Engine the default on Windows 10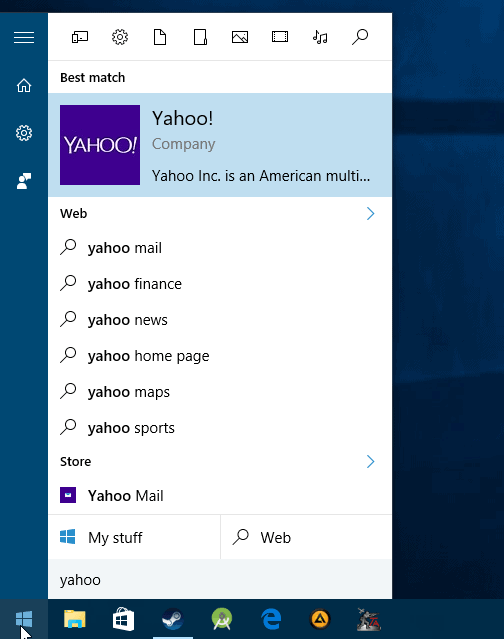 Web Search on Windows 10 is linked to the default web browser automatically on the operating system, but the browser's default search engine is not necessarily used.
Some browsers, like Microsoft Edge, don't offer functionality to enforce usage of the default search engine regardless what it is and will use Bing always to display web search results when you search using the operating system's search functionality.
Others let you use the default search engine automatically when they are the default system browser (Mozilla Firefox), or let you do so after you make a configuration change in the browser first (Google Chrome).
If you don't have Firefox or Chrome installed you need to do so, as those are the browsers that provide you with the options to change the default search engine for Windows 10 web searches.
Setting the default browser
You need to make Firefox or Chrome the default web browser on Windows 10. Read on to find out how that is done:
Use Windows-I to open the Settings application on Windows 10.
Select System > Default apps when it opens.
Locate the "web browser" entry there (it should read Microsoft Edge), and click on the name of the default browser.
Windows 10 displays a list of browsers. Pick the one that you want as the new default system browser.
Note: even after setting the default browser, you will get a "how do you want to open this" prompt the first time you select a web search result.
The default browser is selected automatically in the prompt, and to avoid getting future prompts, it is suggested to check the "always use this app" box on the screen before you hit the ok button.
Firefox
Mozilla added an automatic option to Mozilla Firefox 40 that switches Bing search to the default search engine of the browser.
This means that you don't need to do anything besides setting Firefox as the default web browser on Windows 10 to use its default search provider for Windows 10 web searches.
Google Chrome
The situation is different if you are using Google Chrome instead. While you can set Google Chrome as the default browser on Windows 10, you will notice that Bing is still being used as the search engine when you run web searches on the operating system.
Google added an experimental flag to Chrome 50. It is likely that this flag is going to be removed in favor of using the browser's search engine automatically just like it is handled in Firefox.
For now, you need to do the following to enforce usage of Chrome's default search engine for Windows 10 Internet searches.
With Google Chrome open, load chrome://flags/#enable-windows-desktop-search-redirection.
Switch the flag to enabled, and restart the browser afterwards (a prompt is displayed at the bottom of the window when you modify flags on the page).
Now Read: How to turn off web search in Windows 10
Summary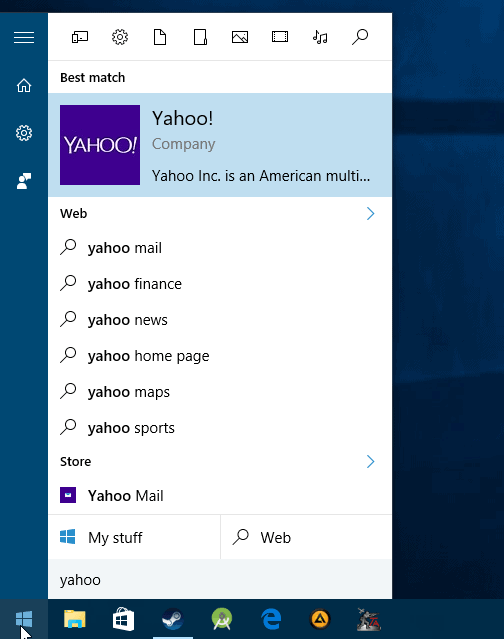 Article Name
Make any Search Engine the default on Windows 10
Description
Find out how to change the default search provider when you run web searches on Microsoft's new operating system Windows 10.
Author
Publisher
Logo

Advertisement