Microsoft's official Windows 10 Activation Guide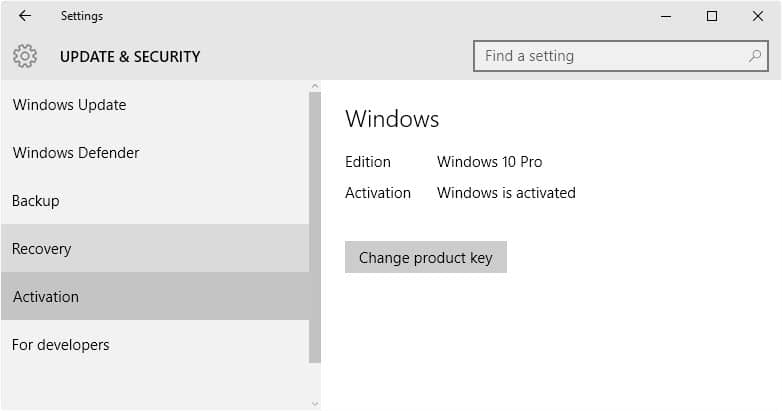 Microsoft's Windows 10 Activation guide offers detailed information about how activation works on the company's newest operating system.
Activation on Windows 10 is not as straightforward as it has been in previous versions of Windows thanks to the addition of the free upgrade offer.
It comes as no surprise that most questions that users have are about activating free copies of Windows 10.
Microsoft distinguishes between digital entitlement and product key activation methods in Windows 10.
All free Windows 10 upgrade versions, versions of Windows 10 bought from the Windows Store, and Windows Insider versions use the digital entitlement activation method.
Copies of Windows 10 bought from authorized retailers (either digital or physical), that are pre-installed on OEM machines, or provided through volume licensing agreements or MSDN use product keys as the activation method.
What's digital entitlement?
The core differences between product key activation and digital entitlement activation are the following two:
Digital entitlement does not require a product key.
The activation is linked to the device.
Since activation is linked to the device, it is possible to re-install the same version of Windows 10 on the device without entering a product key and have it activated once the installation completes (by skipping the product key step).
Obviously, you need to make sure that Windows 10 has been activated once on the device before you reinstall the operating system on it as you won't be able to do so if it is not fully activated (and thus linked to the device).
The main issue with this type of activation is that you cannot use this activated version of Windows 10 on a new device.
Insider Builds
If you have been running Insider Builds before Windows 10 was officially released by Microsoft, your system will remain activated for as long as you don't revert back to regular builds of Windows.
New users who opt-in to the Insider program need to activate Windows 10 before they can activate the system.
Installing Windows 10 Insider Preview on a device that never had an activated copy of Windows 10 on it will require using a Windows 10 product key or buying genuine Windows from the Windows Store. This also applies if the new installation is for an edition of Windows 10 that wasn't previously activated on the device.
Windows 10 Activation Troubleshooting
More information and instructions about Windows 10 activation errors here.
This product key didn't work. (Error code: 0xC004C003)
License could not be found or was invalid. (Error code: 0xC004F034)
There are several reasons why these errors may be thrown:
You ran a clean install of Windows instead of upgrading from previous versions of Windows. The fix for this is to go back to the previous version, and run the upgrade from it to get Windows 10 activated properly.
The activation servers may have been busy. Windows will try again or you can try and activate manually under Activation in the Settings.
An invalid product key was used, for instance a Windows 7 product key.
Genuine Validation detected tampered Windows binaries. (Error code: 0xC004C4AE)
This error is thrown if third-party software added display languages to Windows that are not officially supported. To fix it use system restore, restore backups or reset the PC.
The Software Licensing Service determined that this specified product key can only be used for upgrading, not for clean installations. (Error code: 0xC004F061)
This happens when you try to use an upgrade key on a fresh installation of Windows 10 without previous versions of Windows present on the device.
A networking problem has occurred while activating your copy of Windows. (Error code: 0xC004FC03)
If you receive this error, something is blocking Windows 10 from completing the activation process online. Either try to troubleshoot the issue so that the activation can be performed online, or use the phone activation method instead.
The activation server reported that the product key has exceeded its unlock limit. (Error code: 0xC004C008)
The product key is not accepted because its number of activations has been exceeded. This can be the case if Windows 10 has already been installed on another device and activated using this product key. Solution is to buy another product key, or to contact Microsoft Support to sort out the error if it is one.
The activation server reported that the Multiple Activation Key has exceeded its limit. (Error code: 0xC004C020)
This error is similar to the one above. It means that the activation limit for the entered product key has been exceeded.
DNS name does not exist. (Error code: 0x8007232B)
The filename, directory name, or volume label syntax is incorrect. (Error code:
0x8007007B)
This refers to network issues while trying to activate a work PC. These errors may be thrown if you are trying to activate a work PC while not connected to the work network.
The Software Licensing Service reported that the license evaluation failed. (Error code: 0xC004E003)
The error may be thrown if third-party software, corruption or attacks modified system files needed for Windows activation. System Restore, backups, or a reset, may resolve the issue.
A security error occurred. (Error code: 0x80072F8F)
This error may be thrown if the system's date and time are set incorrectly, or if Windows cannot connect to the online activation service.
Unspecified error. (Error code: 0x80004005)
Microsoft recommends to activate Windwos manually if the error is displayed. This is done with a click on Start, and the selection of Settings > Update & Security > Activation > Activate Windows.
Summary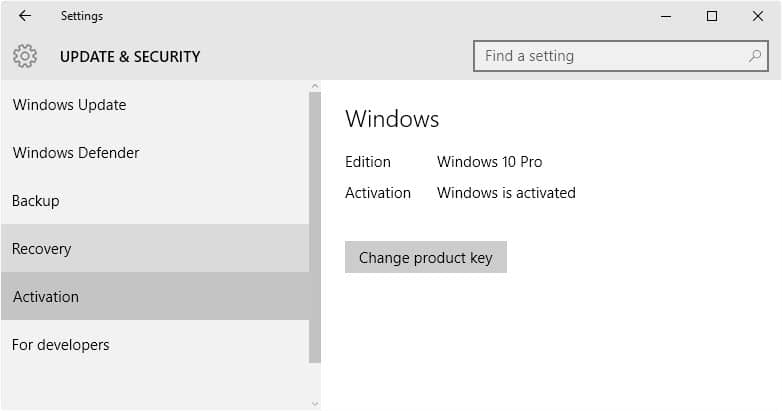 Article Name
Microsoft's official Windows 10 Activation Guide
Description
Microsoft has released the official Windows 10 activation guide and troubleshooting tips for activation issues.
Author
Publisher
Logo

Advertisement