Report: Windows 10 installed on more than 200 million devices
Microsoft is doing what it can to reach the goal of 1 billion Windows 10 devices two to three years after the release of the operating system.
Latest figures, which are not yet confirmed by Microsoft, suggest that more than 200 million devices are running Microsoft's new operating system Windows 10 at the end of December 2015.
That's a jump of about 80 million devices from the previously reported figure of 120 million devices two months ago.
All in all, since its release five months ago, Windows 10 has founds its way on more than 200 million devices.
The jump in the past two months, if true, would mean that about 40 million new devices are either upgraded to Windows 10 or purchased with Windows 10 already installed on them.
If you project a 40 million per month device increase for the future as well, which seems possible considering that Microsoft will push Windows 10 (even more) aggressively on Windows 7 and Windows 8.1 systems as an upgrade, it would mean that Microsoft could reach the one billion figure in 20 months from now on or 25 months after the release of Windows 10.
It means as well that more than 1 million devices are being added to the Windows 10 family each day.
Since this is filed under rumor, we don't really know which device types are included in the new figure. Microsoft started to roll out Windows 10 for its Xbox One entertainment system in November for instance. It is unclear if these numbers are included or if this is purely based on the PC ecosystem and nothing else.
Considering that Windows 10 will be on other devices in the near future, Windows 10 Mobile for instance, it is likely that this is going to push the 1 billion figure in the realm of possibility.
Microsoft hinted recently that it would reveal new adoption figures near the end of the year, and it is likely that the company will publish a "looking back and forward" article that reveals them in greater detail to the public.
Again, the new figure has not been confirmed yet by Microsoft but if true, it means that Microsoft is on course to beating the ambitious goal.
Now You: do you think Windows 10 will be on more than one billion devices in the next two to three years? (via Winbeta)
Summary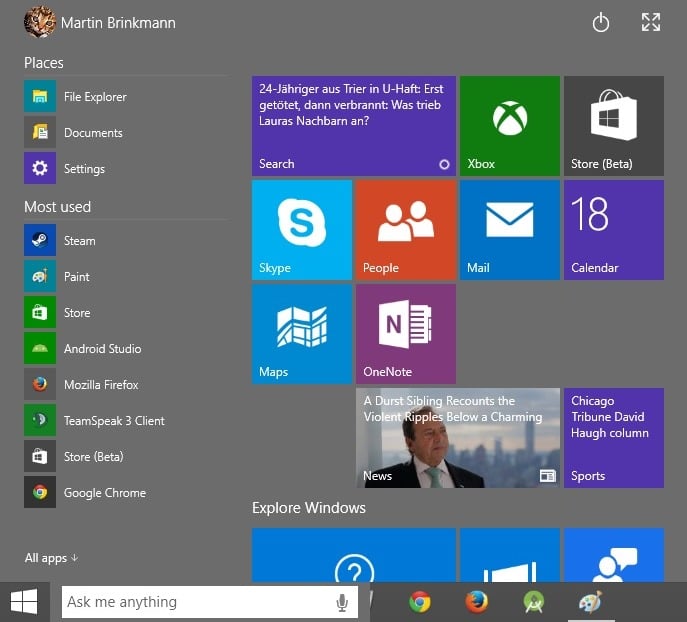 Article Name
Report: Windows 10 installed on more than 200 million devices
Description
An unconfirmed report suggests that Microsoft's Windows 10 operating system is installed on more than 200 million devices five months after launch.
Author
Publisher
Logo

Advertisement