Microsoft, why is it still not possible to move all Windows apps to another location?
Microsoft's Windows 10 operating system ships with dozens of applications included. The majority of these are Universal Windows Platform applications but some, like the new Chromium-based Microsoft Edge, are not. While there has been some shuffling around in regards to included apps, e.g. some were removed or replaced, others added, it has always been the case that users don't get much control over these apps by default.
Power users may know that apps can be removed using PowerShell or third-party tools that offer the functionality, but the built-in options never supported removing the majority of apps. Similarly, when it comes to moving apps from the default location to another, a feature that Windows 10 supported for a long time, it has always been restricted to a selection of apps.
The feature looks like a good one, on paper, considering that it allows you to move installed apps from the main hard drive to another. Useful if storage space on the main drive runs low, e.g. if Windows 10 is installed on a SSD with little space while you have a platter-based drive with Terabytes free sitting idly around.
To check out the feature, open Start > Settings > Apps to get started. Alternatively, you may use Windows-I to open the Settings app directly without having to use the Start menu.
The page that opens lists the installed applications and some sorting and filter options. Note that Universal Windows Platform apps and classic Windows programs are mixed in the listing, and that Windows 10 permits the moving of some UWP apps only but not of classic programs. For the latter, you'd have to use symbolic links, e.g. by using programs such as Linkmaker or Junction.
If you are low on space on the main drive and want to move apps to another drive or partition to free up some space, you'd start by selecting the size sorting option; this lists installed apps by size from largest to smallest in the interface.
Ignore any classic Window program and select a UWP app that you would like to move. Windows 10 displays a move and uninstall option, and either one or even both may be grayed out. Grayed out means that the functionality is not available.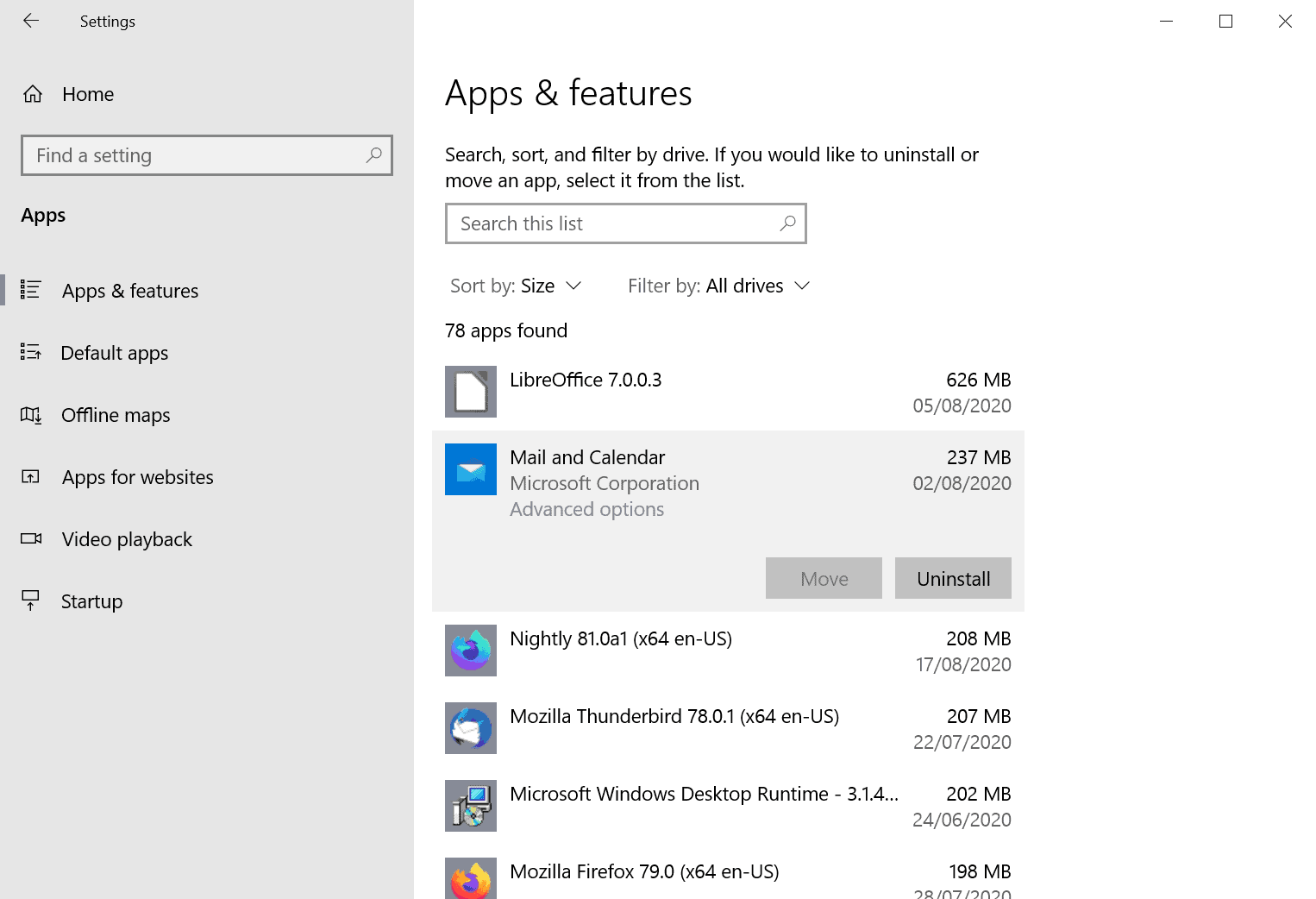 Take Mail and Calendar as an example. The app, that is never used on the test device, occupies 237 Megabytes of space. Move is not available but uninstall is. While you could uninstall the app if it is never used, that option is not viable if you use the app.
A quick check of all installed apps on a Windows 10 version 2004 test device (Home edition) confirmed that several apps cannot be moved:
3D Viewer
Alarm and Clock
App Installer
Calculator
Camera
Cortana
Feedback Hub
Get Help
Grove Music
HEIF Image Extensions
HEVC Video Extensions from Device Manufacturer
LinkedIn
Maps
Mail and Calendar
Microsoft Photos
Microsoft Solitaire Collection
Microsoft Store
Mixed Reality Portal
Movies and TV
Office
OneNote for Windows 10
Paint 3D
People
Snip and Sketch
Sticky Notes
Surface
Tips
Voice Recorder
Weather
Web Media Extensions
WebP Image Extensions
Xbox Console Companion
Xbox Game Bar
Xbox Live
Your Phone
The majority of apps don't allow you to move them to another location using the Apps section of the Settings app. It is unclear why some apps can be moved while others cannot. Since it is only possible to move a minority of pre-installed applications, it begs to question why the option is there at all. One answer could be that it is designed for third-party applications installed from the Store predominantly, but since Microsoft never made that clear, it is nothing more than a guess.
The ability to move programs to another drive is a useful option on devices with low storage space, and many system administrators would probably welcome an expansion of the option to include all installed programs and not just some UWP applications.
Now You: Is move broken? Would you like to see universal move implemented?
Summary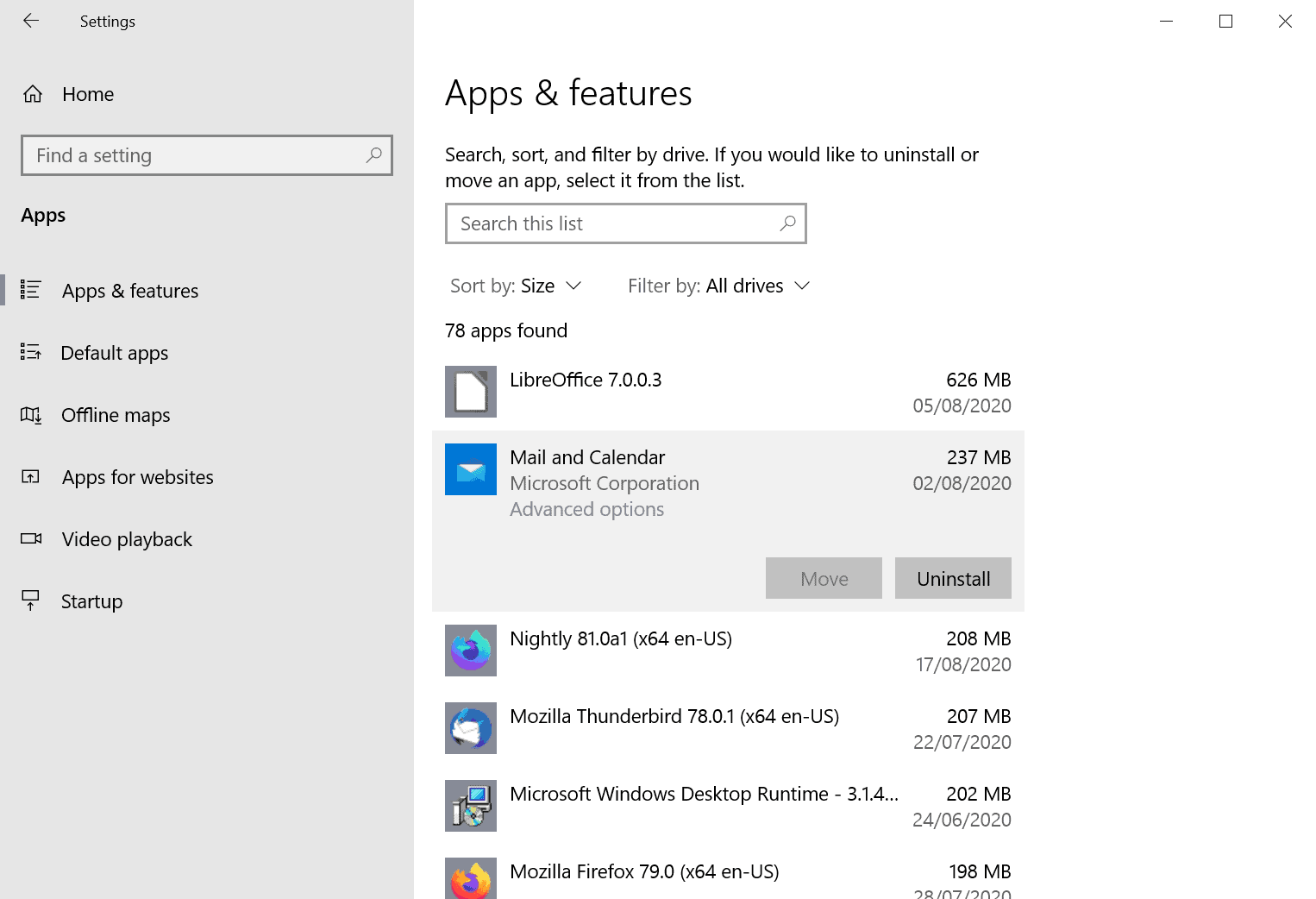 Article Name
Microsoft, why is it still not possible to move all Windows apps to another location?
Description
Windows 10's option to move installed applications to another location works only for some apps and not for all.
Author
Publisher
Logo

Advertisement