Microsoft's new Bing is ready for everyone, here are our impressions
Microsoft is rolling out the new Bing experience to users. We got access to it, played with the chatbot, and here are our first impressions.

The new Bing uses the Prometheus AI model which is based on the GPT-4 which is the next-gen version of GPT-3.5 and ChatGPT.
How to access Microsoft's new Bing chat?
1. Open Microsoft Edge on your PC, and go to https://www.bing.com/new
2. Sign in to your Microsoft account and opt-in to join the waitlist.
3. You may get faster access to the chatbot by doing a couple of things. By setting Microsoft defaults on your PC (which Martin doesn't recommend), and by installing the Bing search app on your Android mobile or iPhone.
You will get an email like the one below when your account is approved for accessing the new Bing.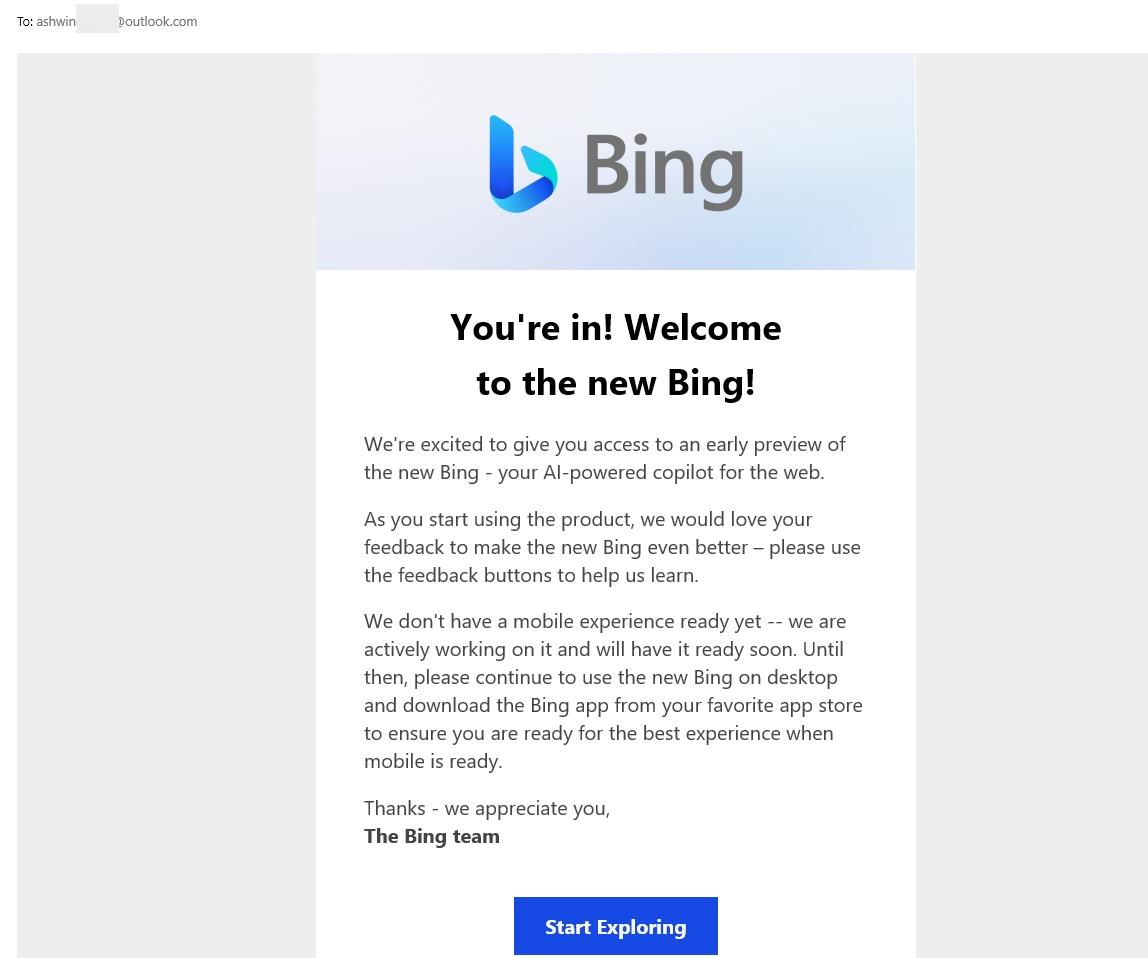 Microsoft Rewards account requirement
The new Bing chat received 1 million-sign ups for beta testing in just 48 hours. I installed the Bing app on my phone and signed in to the same account as on my PC's Edge browser, which is probably why I got early access to it, though I never set Microsoft Edge as my default browser on my computer. There is one other requirement, according to the new Bing's terms and conditions, you must also be a valid Microsoft Rewards user to access the chatbot.
This explains why I couldn't get access to it in my other ID, it kept saying "Something went wrong. Please try again." For context, a year or so ago, I had tried accessing Microsoft Rewards when it wasn't available in my Country, to write an article about using it to redeem Game pass subscriptions. I used a VPN to try to access it, which in hindsight was not a smart thing to do, because switching the region resulted in an automatic ban. I can still use the account for Mail, and other Microsoft services, but I haven't appealed the ban. So don't try this with your primary account.
Anyway, the Microsoft account requirement may be a temporary one, this is what the terms state, "After initial roll-out of the Conversational Experiences, which will be limited to users who sign-up to the experience waiting list, and are selected to use the Conversational Experiences, we may not require you to be signed in with your Microsoft account or be signed in to Microsoft Rewards." So, once the new Bing is out of beta, all users may be able to access it, without an account. That would actually be cool.
What makes Microsoft's new Bing chat special?
The thing that sets Bing AI apart from ChatGPT is the search engine, the new Bing is optimized for search. The chatbot recognizes your searches made on Bing, generates responses for the queries, and provides a concise summary with the relevant information. It's a little slow to respond to some questions, as it gathers data to summarize them, but it does save you a lot of time as researching it manually would take a considerably longer amount of time.
Voice Search is supported in the new Bing experience, so you can speak to it if you don't want to type, the voice recognition also relies on ChatGPT technology. You can switch between the search and chat interfaces by clicking the section at the top of the screen. The Bing chat experience is fairly similar to ChatGPT's. You ask some questions, it fetches the answers from the internet. Besides pulling info from real-time, the new Bing offers follow-up suggestions to nearly every query. These are quite helpful to learn more about a topic.
The citations that it quotes are handy, when you click on one of the links, it takes you to the source article. This is particularly helpful for verifying the information provided by the bot. However, if the source is wrong, the answer will be incorrect as well. In addition to links, the chat also recommends videos for some answers.
Microsoft's new Bing AI vs ChatGPT - which one is better?
Both AI language models are capable of generating answers, poems, code, letters, etc. The most common way in which people would use it for is to get answers for questions, it is capable of doing that. The easiest way you can compare the two chatbots, is to ask them the same question, and look at their answers.
Here is a basic query, for which ChatGPT gave some good recommendations. Bing AI did a similar job, but presented the information in a more readable manner, almost like a Wikipedia-like experience combined with web search.
The bot also cited some sources and provided some interesting follow-up questions, which in turn gives you more details. I think this is what gives it an advantage, more ways for a user to interact with it, and the emojis are a nice touch.
Let's take a look at a different example. This time I want to know when a specific book would be released.
ChatGPT's response was outdated, which is not surprising, OpenAI mentions that it has limited knowledge of events after 2021. But users will need up-to-date information, right? This is something that Microsoft highlighted in its announcement, it said that the Prometheus AI model is capable of pulling information from real-time events.
Bing's answer was indeed impressive, it not only gave me the information that I sought, but also quoted some very good sources for the first part of the answer.
The second part was less impressive. The book in question has a release date which was confirmed by the author himself a few months ago. There are several articles about it on top blogs, listings on bookstores mentioning the date, Amazon is even accepting pre-orders for the book. The chatbot failed to pull the data from these sources.
However, when I used the new Bing to search for the book by its name, this time it gave me the right information, and also helped me find ways to pre-order it. I'm not saying Bing AI is bad, I just want to point out that it is not without flaws, it could have generated the same information in response to the first question. Still, it's pretty good for a program that is in an early phase for public testing.
You can use it for comparison shopping too, it gives you some nice insight about popular products that can help you come to a decision about which one to buy.
The new Bing chat has a personality, it can crack jokes, has some opinions. It is sassy. Dare I say it? It reminds me of Cortana, but in a good way. The one thing that I struggled with was how to access the chat history, or an option to save the chat. ChatGPT is better in this regard, as it saves conversations in the sidebar.
I thought it might be a good idea to ask Bing AI to save the chat, and it did. When I asked it to show me the saved chats, it listed a few, including an option to view the chat's transcript, and to delete the chat (which you cannot undo). The feature seems to be a work-in-progress, as I was unable to access the transcript. That's also when I learned the AI's name was Sydney. That's apparently the internal codename of the project, the chatbot is called Bing, that's interesting.
It's unclear whether the new Bing will support Firefox and Chrome.  I couldn't access it on either browser, when I clicked the chat icon it told me to open the page in Microsoft Edge. I'm assuming the Edge exclusivity part is Microsoft's way of marketing the chatbot, and attract more users to Edge. It helped their Bing search app rise to the top of the App Store rankings, so why not do the same on desktop? This could play a crucial role to capture the search market, and establish itself as the leader in AI-powered search.
The Bing mobile app prompts you to access the new chat on your desktop, the experience will be available on Android and iOS soon. The chatbot currently supports the following languages: English, Chinese, Japanese, Spanish, French and German.
Google has dominated the search market for 2 decades, but I think Microsoft's new Bing AI poses a serious threat to it, even with the announcement of Bard. The Bing chatbot is also coming to Microsoft Word, Outlook and Powerpoint next month.
Summary
Article Name
Microsoft's new Bing is being rolled out to users, here are our first impressions
Description
We tried out Microsoft's new Bing AI chat to see how it compares to ChatGPT?
Author
Publisher
Logo

Advertisement