Would you pay a subscription fee for Windows?
Ever since Microsoft introduced Windows 10's free for the first year upgrade offer, rumors circulated around the Internet that the company would introduce subscriptions after that time period that all users who had upgraded to Windows 10 for free would have to pay.
While those rumors are not true as far as I can tell, it is clear that software companies have been moving towards subscription-based services in the past couple of years.
Microsoft for instance introduced Office 365 not long ago. Starting at $69.99Â  for a one year subscription for one PC that gets you access to Office tools and 1 Terabyte of storage space, it is a highly popular offering.
In fact, the subscription price is discounted often on third-party sites so that users pay even less for it.
Subscriptions pro and con
Software as a service has its advantages. First, you can be sure that you will always get the latest version of a program. Updates and upgrades are included for as long as the subscription lasts, and you don't have to worry about support expiration or using a product that is no longer supported and thus maybe vulnerable to attacks due to unpatched security issues.
You pay a monthly or yearly-paid subscription fee for the software in question. That's one of the core differences to perpetual licenses, as you make a one-time payment only for a program.
While updates are usually included, upgrades to newer versions of a program are not. This does not invalidate the version bought right away though, and it is theoretically possible to continue using it.
While a developer may end support for a program at one time -- think Windows XP or the upcoming end of support for Windows Vista -- it does not usually happen overnight. Upgrades need to be purchased separately though when they become available.
Windows as a subscription
Microsoft confirmed recently that it will make available Windows 10 as a subscription-based service for Enterprise customers.
Priced at $7 per month per user, Enterprise customers have to pay $84 per user per year for a basic Windows 10 subscription. Microsoft plans to make available larger packages that include Windows Defender Advanced Threat Protection but has not revealed pricing information for those yet.
The company has been tight-lipped about offering Windows subscriptions for consumers. Many things point to the possibility: the success of Office 365, Microsoft's move to subscription's in general, and now the introduction of subscriptions for Enterprise customers.
If Microsoft would offer Windows 10 subscriptions, maybe under the Windows365 umbrella, it would probably match the Office365 pricing or come near it.
It is unlikely that Microsoft would market a per-user payment model to the consumer market though.
Instead, what seems most likely, is that Microsoft would offer a per-device subscription instead.
Consumers can purchase Windows 10 Home for $119 and Windows 10 Pro for $199 currently, and a subscription package would have to be priced reasonably or offer additional features or services.
Microsoft could offer a 1-PC and multi-PC subscription for Windows 10, and price the first at less than half the price of the perpetual license, and the second at about 2/3 of the price.
Now You: How much would you pay for a Windows subscription?
Summary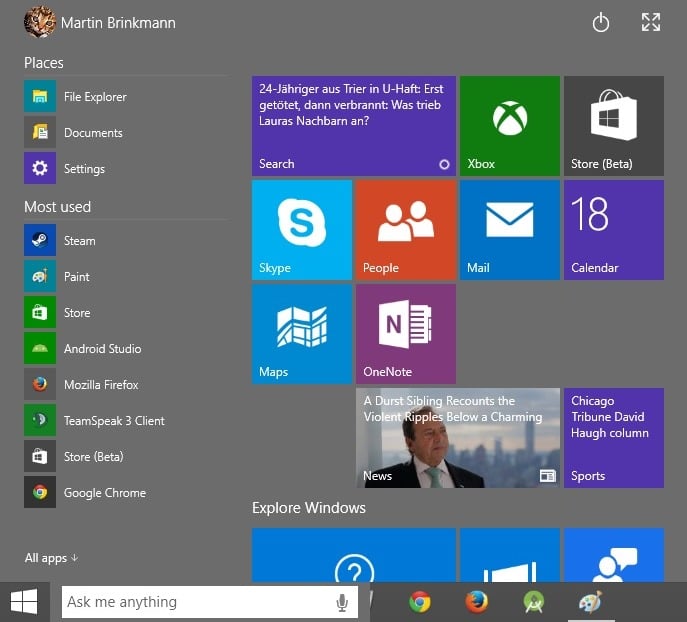 Article Name
Would you pay a subscription fee for Windows?
Description
Will Microsoft introduce a subscription-based product for Windows for consumers? If so, what are the advantages and how much would it likely cost?
Author
Publisher
Logo

Advertisement