Windows 10 is more or less feature complete
Microsoft released a new preview build to Fast Ring testers of Windows 10 two days ago which introduced a series of improvements over previous versions.
The company added -- more reinstated -- start menu personalization options in the latest build. In addition, it added new options to the digital assistant Cortana that include the shortcut Windows-C, added features to the Microsoft Edge browser, and introduced a new design for jumplists in the operating system.
All improvements that Microsoft added in the build are minor, and Gabe Aul, who wrote the blog post introducing the changes on the official Blogging Windows blog, stated that testers should not expect too many new major features hit the operating system before release.
As I mentioned with the last build, from here onward you are going to see a lot of tuning, tweaking, stabilizing, and polishing which means fewer big feature changes from build to build.

You'll see that in this build which has a number of small improvements and more polish
Considering that Microsoft plans to release Windows 10 this Summer, at the very latest in September of this year then, it is unlikely that a major new feature will be integrated in Windows 10 in the coming months.
The online retailer Newegg lists August 31, 2015 as the release date of Windows 10 Home and Windows 10 Pro OEM versions with retail prices of $109.99 and $149.99 respectively. The date has not been confirmed yet by Microsoft and it may just as well be a placeholder for now.
Update: Microsoft confirmed in a blog post on the Blogging Windows website that Windows 10 will be released on July 29, 2015 for PCs and tablets
As far as Windows 10's development is concerned, it is likely that Microsoft is concentrating its efforts on polishing the system, tweaking settings, fixing bugs and improving the overall usability of it before it hits RTM which is going to happen rather sooner than later if you take the Summer release period into account.
What this means however is that Windows 10 will ship in in a form that is very similar to the latest build that Microsoft released two days ago.
While there will be marginal changes across the board, Windows 10 will look and feel similar to Build 10130. This means that the start menu, Cortana, Microsoft Edge, the taskbar, virtual desktops, settings and everything else will look similar, and that it is unlikely that new features are being introduced at this point in development.
This does not necessarily have to be a bad thing considering that Windows 10 is generally seen as an improvement over the company's current operating system Windows 8.
Testers and interested users who have hoped for a last-minute major feature announcement or a killer feature will likely be disappointed.
Since Windows 10 is more or less feature complete at this point in development, it is time to ask what you think of it in its current form.
Now You: Assuming that recent builds will be close to the RTM build, what is your take on Windows 10? How successful do you think will Windows 10 be?
Summary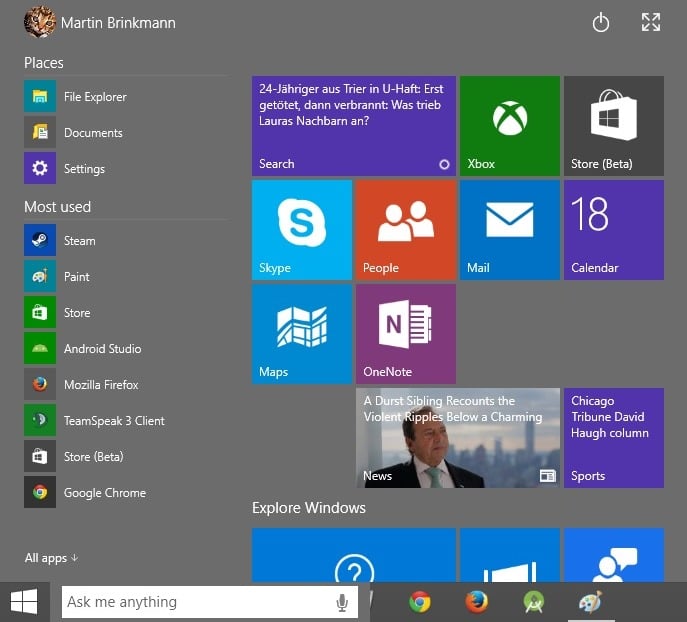 Article Name
Windows 10 is more or less feature complete
Description
The release of Windows 10 Build 10130 indicates that the operating system is nearly feature complete., and will likely be released in the coming months.
Author
Publisher
Logo

Advertisement