Microsoft reveals Windows 10 editions
Microsoft's upcoming operating system Windows 10 will ship in three consumer editions and three Enterprise and education editions.
The three consumer editions Home, Mobile and Pro are designed for the demands of end-users, professionals and small businesses.
Windows 10 Home is the equivalent of the Windows 8 edition, a basic edition of Windows 10 that will most likely ship with the majority of devices the operating system comes pre-installed on.
Update: We have published a comparison between Windows 10 Home, Pro and S in 2017.
Microsoft notes that the edition will ship with Microsoft Edge, the new web browser, Cortana, the personal assistant, Continuum, a tablet-friendly mode for touch-devices, Windows Hello, a biometric authentication service and universal applications.
Windows 10 Pro, the second desktop version ships with all the features that Windows 10 Home ships with and extra features designed for professional use.
For instance, it supports Windows Update for Business, which supports peer to peer delivery of updates, maintenance windows, distribution rings to prioritize deployments and integration with existing tools like System Center.
Windows 10 Mobile finally is the mobile version of the operating system that smartphones and small tablets will ship with.
Microsoft has not yet announced the free upgrade paths but it is likely that they look like the following:
Windows 7 Home editions --> Windows 10 Home
Windows 7 Pro and Ultimate editions --> Windows 10 Pro
Windows 8 --> Windows 10 Home
Windows 8 Pro --> Windows 10 Pro
Again, the company has not confirmed those upgrade paths yet, only that the upgrade to Windows 10 will be free for genuine Windows 7 or 8 systems. We will update the article when new information become available.
Windows 10 Enterprise, Windows 10 Education and Windows 10 Mobile Enterprise are the three Enterprise editions that Microsoft will release.
Windows 10 Enterprise builds on Windows 10 Pro adding features to the operating system that medium and large sized organizations require.
It provides advanced capabilities to help protect against the ever-growing range of modern security threats targeted at devices, identities, applications and sensitive company information. Windows 10 Enterprise also supports the broadest range of options for operating system deployment and comprehensive device and app management
The edition will be available to volume licensing customers.
The difference between the Enterprise and Education edition of Windows 10 is that the Education edition has been designed for schools and universities. It will be available through academic volume licensing only.
In addition to that, Microsoft will make available special versions of Windows 10 Enterprise and Windows 10 Mobile Enterprise for industry devices that require small footprints.
Closing Words
Home users have the choice between the two editions Home and Pro. If Windows 8 is anything to go by, the Home edition may lack features such as Group Policy, Encrypting File System or Virtual Hard Disk Booting.
Microsoft has not published a feature matrix yet which highlights differences between all versions of the upcoming operating system.
Now You: Do you plan to upgrade your existing system to Windows 10?
Summary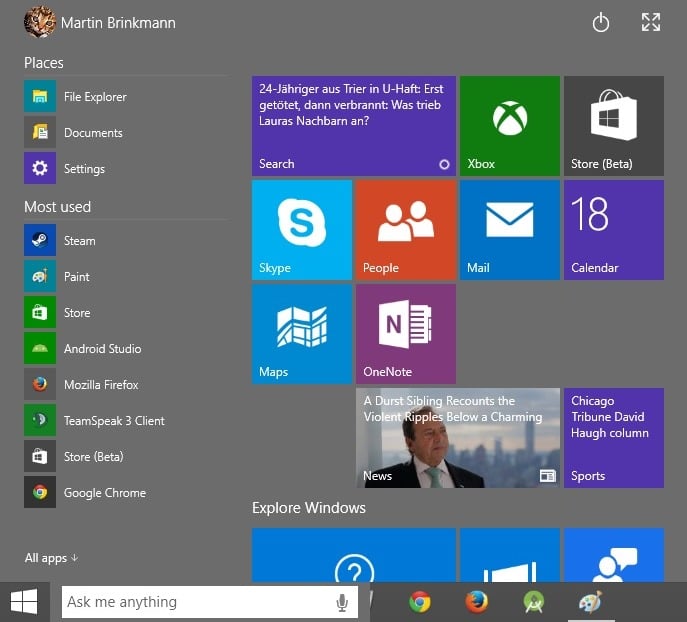 Article Name
Description
Microsoft revealed initial information about the editions of its upcoming operating system Windows 10.
Author
Publisher
Logo

Advertisement