A Comparison of Popular Maps and Driving Directions Sites
Finding maps and driving directions online only makes sense. The popular map sites have current changes updated in real time, and even feature traffic reports so that you can better plan your route. Getting reliable step by step directions will make any trip easier. The only thing left to decide is where to get your directions from. So with Yahoo Maps, MapQuest and Google all competing for our attention, which map site will reign supreme?
Basic Directions
First we'll look at providing simple directions, as this is what most of us are looking for when we visit one of these sites. If you're concerned about traffic, construction or other hazards, Yahoo Driving Directions is the best choice. MapQuest score some points by letting users avoid highways; take the shortest distance, or the route with the shortest time. It is also very intuitive and easy to use, which is good if you're in a hurry to get your directions and hit the road.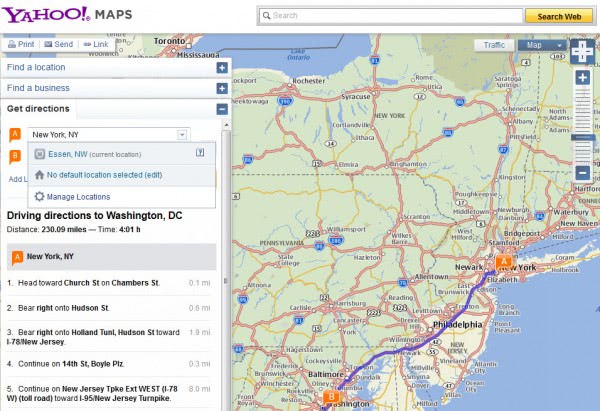 MapQuest also has a cool drag and drop menu that Yahoo has also had, making it easier to plan your trip around traffic blockages. For those walking or jogging, MapQuest and Google are the only sites that currently lets users plot pedestrian courses. Google Maps has a handy feature that allows users to zoom in for topographical views, which some may find useful. In summary, use Yahoo Driving Directions when construction and heavy traffic are a concern, and MapQuest is usually best for quick, simple directions.
Sightseeing
So which is the best choice for sightseeing? MapQuest currently lacks the ability to show users satellite images, though it does allow you to plot multiple points around an address to pick a good route for your sightseeing tour. Google is a heavyweight here, and can show you close up views from continents all over the world.
Yahoo Driving Directions also provides satellite images of remote locations, but MapQuest and Google have higher resolution displays. To sum it up, Google Maps takes the crown for the most comprehensive satellite image capabilities and quickest response times. There are even websites which allow visitors to go on amazing sightseeing tours around the world from their laptops using Google's satellite images.
A New Contender
Another site I want to touch on here is the new kid on the block, Microsoft Bing Maps. It allows users to place pushpins at their favorite locations, upload photos to their own websites, and record notes. It also has some impressive features similar to Google including a map creator function, full traffic reporting in real time, and complete tours of popular sightseeing landmarks. Perhaps its coolest feature is that it allows users to take 3-D tours of different cities. It seems Microsoft has attempted to take the best features from the other sites and give them a run for their money. So far, they are holding their own, but I still favor Yahoo Driving Directions overall.
If you're the type who likes to experiment for yourself rather than taking the word of some hack typing away at his keyboard, there's a quick and easy way to determine which of the map sites out there will be best for your needs. Go to each site, and request directions for a route you know very well and travel regularly. Choose a route that has obstacles like ongoing construction, or that uses highways with lots of traffic at certain times of the day. In other words, challenge the mapping programs as much as possible. From experience, you will know the best route to take at the time of day you're requesting directions for, so let's see if any of the map sites know your city as well as you do!  Spend some time looking at satellite maps and searching for obstacles. After a few minutes on each site, you'll see which of the sites gives you the best directions and has the best maps. For my area, Yahoo Driving Directions provided the best overall results, and actually taught me some shortcuts that I was previously unaware of.
The Google Map site, MapQuest, and Yahoo Driving Directions are all pretty close when it comes to mapping solutions, with Google maps showing a slight advantage over the other two in the eyes of users. Users who favor Google say the interface is the fastest and easiest to use, prompting users with an address search field, and a field to get directions with one click. Users also have the ability to alternate between street map views, traffic map views or satellite map views. There is even a 360-degree street view available in some cases.
Yahoo Driving Directions is still the site I choose most often, but there are times when Google's advanced features are a better choice. Despite coming in third overall in user satisfaction behind Google and MapQuest, Yahoo driving directions is quite comparable to the other map sites, offering simple menu options, two search boxes to minimize clicks, and good satellite imagery. When experimenting myself, I found Yahoo driving directions and Google Maps gave me the same route almost every time
In summary, the big three contenders Google Maps, MapQuest and Yahoo Driving Directions all include a host of great features, and are all highly rated by users. Google has a slight edge with their intuitive interface and advanced satellite imagery, but both Yahoo Driving Directions and MapQuest are holding their own. Nipping at their heels, Microsoft Windows Live Local has introduced some great features of their own, and may make this a four way race in the near future.
What's Next?
The development teams behind the map and driving directions sites are currently exploring ways to integrate their mapping functions in with other projects. "My Tracks", for example, allows users to create pedestrian maps for walking/biking/jogging routes and use your mobile device as a GPS system, after which you can save your map to Google Docs. Google Maps is also now accessible through users' Gmail accounts.
We're sure to see exciting new developments from mapping and driving directions sites like Google Maps and Yahoo Driving Directions and others, as the four major sites (5 if you include Ask) will all be vying for attention from users. Expect to see improved features and more intuitive control panels which allow users to get what they want very quickly from almost any device that connects to the internet in the coming months.
Advertisement